BizLaf
Dress up your apps
for business. Instantly.
for Java
BizLaf is the pluggable Look & Feel for Java Swing-based user interfaces that converts existing applications into professionally looking business applications in almost no time.
BizLaf cares most about the information that you want to display on your applications' screens. We created BizLaf including lovely details but avoiding unnecessary twirls. To keep a long story short: BizLaf is clean and concise, modern and friendly, bright and attractive. See for yourself.
In our longstanding experience with designing user interfaces for business applications we distilled the best balance between what makes up a great business application Look & Feel and what can be realized with Java. Find out about BizLafs unique features.
Style diversity
BizLaf brings a lot more than just one visual style per user interface component type. Therefore, you can style your application as it is most appropriate for the usage context. Input fields that look like search entry fields, text backgrounds that look like notepads – you will be surprised how differently a standard Java Swing component can look like.
Driven by Cezanne
BizLaf ships together with Cezanne, our first-class Look & Feel engine for the Java platform, and therefore meets your high demands on performance and visual effects. Plus, you automatically gain Cezannes great features such as full baseline support or resolution-independent user interface scaling. Find out more about the power of Cezanne.
Ready for Servoy Smart Client
As the Servoy Smart Client environment uses Java Swing as its UI layer, BizLaf is compatible with applications that run on Servoy Smart Client. This way it is possible to revamp Servoy business applications in very little time.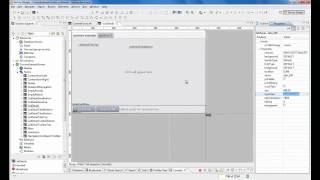 Watch how a Servoy Smart Client screen can be revamped with BizLaf in less then 10 minutes.
Affordable for big and small businesses
BizLaf can be obtained in several individual configurations. So, regardless of whether you want to beautify a small single user application or a large-scale enterprise system – you will find right the balance between value and cost effectiveness. Also, we can extend BizLaf's style set according to your requirements.
Just contact us so that we can create an individual quote for you.